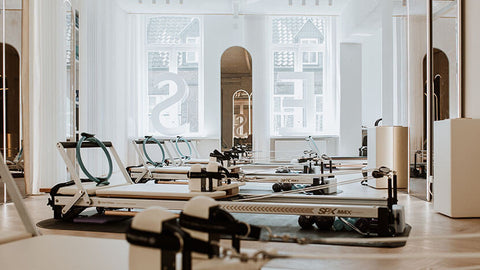 The Ultimate Guide to the Top 3 Pilates Reformers for Home or Class
Pilates, a renowned fitness regimen, is an amalgamation of muscle strengthening, flexibility improvement, and overall well-being. Whether you're a fitness aficionado or a Pilates beginner, choosing the right reformer for your home or class is essential. Below, we delve into the top three Pilates reformers suitable for both home use and professional classes, taking into consideration their features, benefits, and what sets them apart.
1. Peak Pilates fit™ Reformer Bundle
At the pinnacle of home Pilates equipment stands the Pilates Peak Pilates fit™ Reformer Bundle. Offering a seamless fusion of functionality and luxury, it's a favorite among both beginners and seasoned practitioners.
Key Features:
Robust Construction: Built with high-grade steel and premium wood finishes, ensuring longevity and stability.
Adjustable Resistance: Comes with multiple resistance settings, catering to all fitness levels.
Ergonomic Design: Features a cushioned carriage, padded footbar, and adjustable headrest for maximum comfort.
Why Choose the Peak Pilates fit™ Reformer Bundle?
The blend of durable construction and user-friendly design makes it an excellent choice for those looking to experience studio-grade workouts at home.
2. Merrithew™ At Home SPX® Reformer Deluxe Bundle
Specially designed for professional Pilates classes, the Merrithew™ At Home SPX® Reformer Deluxe Bundle is the embodiment of efficiency and adaptability.
Key Features:
Versatility: Can be effortlessly adjusted to cater to various exercises and user heights.
Space-Efficient: Its stackable design is a boon for studios, allowing easy storage.
Precision Components: Engineered with high-precision components ensuring smooth glides and transitions.
Why Opt for Merrithew™ At Home SPX® Reformer Deluxe Bundle?
The unparalleled versatility it offers makes it a favorite among studio owners. Its adaptability ensures it meets the diverse needs of multiple users daily.
3. Pilates ProWorks FitFormer™ Home Edition
For those who are always on the move yet don't want to miss out on their Pilates routine, the Pilates ProWorks FitFormer™ Home Edition is a game-changer.
Key Features:
Lightweight: Crafted with lightweight materials without compromising on sturdiness.
Easy to Set Up: Assembles in minutes, making it perfect for on-the-go routines.
Compact: Can be folded and stored in minimal space, making it ideal for travelers.
Why is the Pilates ProWorks FitFormer™ Home Edition the Best Portable Option?
It encapsulates the essence of mobility without sacrificing functionality, making it the top choice for traveling fitness enthusiasts.
In Conclusion
Selecting the right Pilates reformer can significantly enhance your fitness journey. Whether you prioritize comfort, adaptability, or portability, there's a reformer tailored to meet your needs. By understanding the key features and benefits of each, you can make an informed choice and elevate your Pilates experience.
---
« Back to Pilates Blog