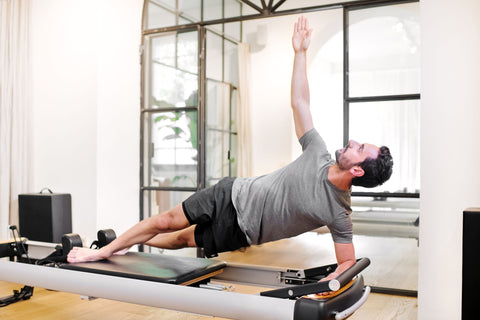 Pilates Reformer Machine: The One Stop Shop
Fitness rejuvenation is at your fingertips thanks to Modern Reform - your go-to place for superior quality Pilates equipment. We have an all-inclusive assortment from high-end luxury Pilates equipment to the user-friendly and easy-to-maintain Pilates machines. At Modern Reform, we aim to help you make the most out of each workout session.
Pilates Reformers - Your Fitness Companion of Choice
Ready to bring your Pilates practice to the next level? Our range of Pilates reformers are here to boost your training routine.
"The Pilates reformer makes a dramatic impression when you first see one, but once you get rolling with it, it's an investment you'll never regret." -Joe Pilates
Reformer Collections
Our ever-growing roster boasts different types and brands of Pilates reformers. We carry Merrithew and BASI systems, to name a few.
For those searching for space-saving solutions, our foldable reformers and stackable Pilates reformers are perfect for accommodating tight spaces.
Aluminum Pilates Reformers
One popular choice among our extensive collection is our handpicked selection of Aluminum Pilates Reformers. These reformers are not only sturdy but they also present an appealing aesthetic to your workout space.
MVe Collection: Take your Pilates workout up a notch with our MVe collection, which is renowned for its responsiveness and versatility. 

For Recovery: Our selection of reformers designed for rehab provide an effective way to safely rebuild strength after injury.
The Takeaway
Here at Modern Reform, we understand it can be overwhelming to select the appropriate Pilates reformer. That's why we offer an extensive range of Pilates equipment from Elina to Fitkon Pilates reformers. We're continually striving to meet your fitness goals. As Pilates said, "Change happens through movement and movement heals." Let us guide your transformation journey with our top-quality Pilates reformers. Continue that exploration by viewing our comprehensive range of Pilates cadillac reformers for sale.
---
« Back to Pilates Blog